Registration remains open for Respond 2022 – the ninth National First Responder Conference & Exhibition – which returns on Saturday 17 September to the Mullingar Park Hotel, Co. Westmeath.
First organised in 2014 by CFR Ireland (the National First Responders Network), Respond has now become the landmark conference and exhibition for all CFR groups around the country, with delegate numbers dramatically increasing over the years. Since then there have been six live annual events and two virtual events in 2020 and 2021 (due to the Covid-19 pandemic restrictions).
Early Bird Tickets (costing €60) are available until 9 September with tickets from 10 September costing €70. All CFR Ireland members are entitled to €20 off the ticket price, while group discount codes apply. Click here to book tickets online.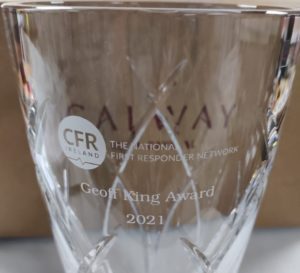 Geoff King Award: Nominations for the Dr Geoff King Award, the late Director of the Pre-Hospital Emergency Care Council, are set to close on Monday 12 September.
The Respond Committee initiated the award at Respond 2015 in memory of Dr King's contribution to community first responders, to recognise an individual, a community or organisation that has gone the extra mile, outside their comfort zones, to put in a special effort or were innovative in some way in strengthening the 'chain of survival'.
A panel of three indepdenent judges have been chosen from outside CFR Ireland and they will make the final decision on all possible recipients.
To submit an application, email the nominee's name and address with a brief outline on why they should receive the award (in 400 words or less), and feel free to add photographs to kingaward@cfr.ie
CFR Ireland welcomes all non-members to join the network free of charge.